NEW ALBANY — In the warm sunshine Wednesday, a group of kids in blue T-shirts sprinted around the football field at Silver Street Park in New Albany, short legs battling for control of the ball. The voices of small victories cheered and celebrated — some with mischievous dismay — when they successfully or failed to snatch the ball from another player.
Across the park, the boys frowned and jaws clenched, grunting as they attacked yellow tackle dummies, and the coaches stumbled back as the boys proved their strength.
Small sports teams participated in the Christian Athletes Fellowship's annual strength camp June 12-15 at Silver Street Park. Day camps host children from the upcoming school year in grades 3-6, offer multisport instruction and give campers the opportunity to try a variety of activities.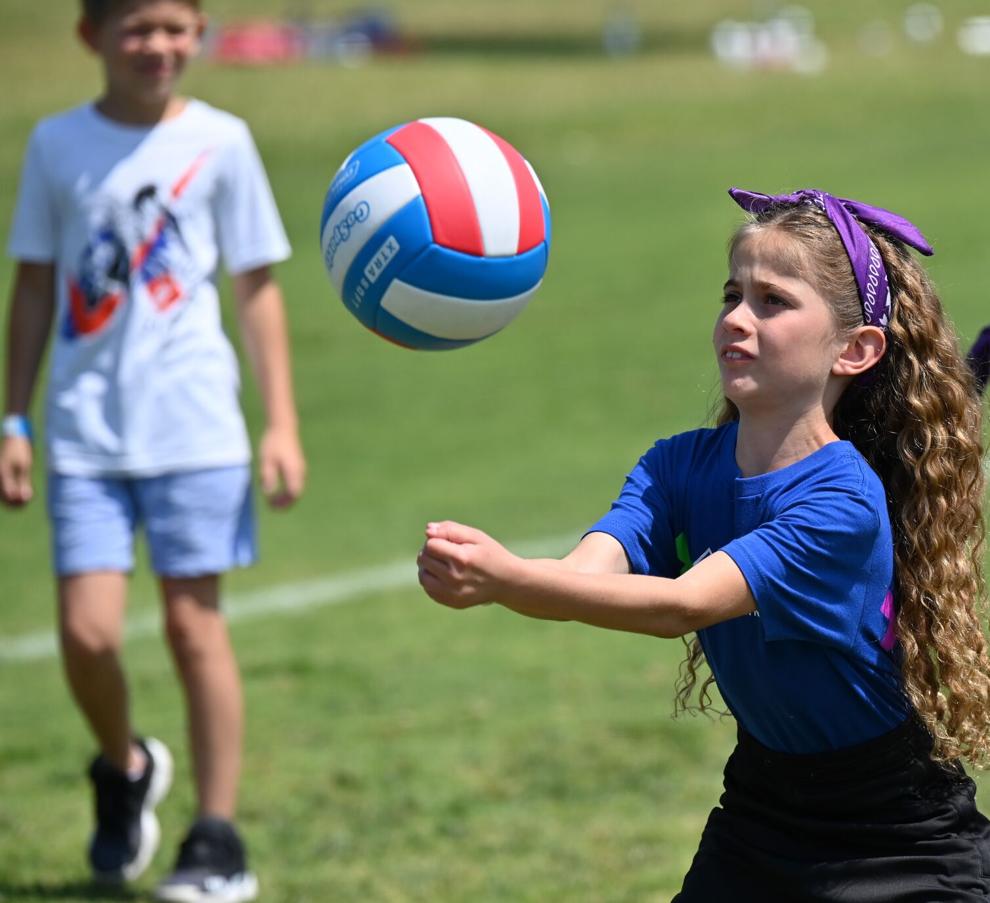 The camp is also faith-based, with daily worship services as well as devotionals and talks from local churches. This year's theme is "Greater," based on the Bible verse John 3:30, which reads, "He must become greater; I must become less." The theme is designed to inspire campers to reach their highest potential.
This year, 133 children participated in Power Camp—a significant increase from the 49 who signed up for the first year in 2021 and the 54 who participated in 2022.
Tyler Pavey, Regional Director of FCA's Southeast Indiana Chapter, joined FCA in 2018 as a Regional Representative. Parent involvement has helped the program grow steadily over the years, he said.
"I think it helped a lot, that there were a lot of parents involved not only in getting their kids there, but encouraging their friends and other families they knew," he said.
Each day, campers take turns playing basketball, soccer, tennis, baseball, softball, volleyball, and American football for an hour each. This gives them a chance to explore and find out what they like best. As a parent, Pavey says, he knows the struggle of wanting your kids to get involved but hesitating to spend an entire year playing a sport they might not end up enjoying.
"It's a really good opportunity for them," Pavey said. "They're able to see if they're really good at [the sport], if they like it, if they have a sport that they really love. We're happy to include some sports you don't care too much about, like volleyball or tennis. "
Tate Adams, a freshman at the University of Alabama, has been involved with FCA since 2016 as a student at Charlestown Middle School.
As he got older, Adams took on leadership roles and joined Power Camp this year as a team leader, leading seven boys in religious services and assisting coaches with physical education.
"Honestly, I can't think of a single kid who is having a bad time," he said. "Every kid has a great experience. It's a very positive, uplifting environment."
Adams said taking on a leadership role gives him the opportunity to change the lives of others in the same way FCA has changed his.
"As a camper, these camps have changed my life personally, and now starting to be a leader and having the opportunity to help improve the lives of some kids… Knowing what that means to me is really special to be in that position, to others A child makes an impact," he said.
Lily Ross, a rising sixth grader at Silver Creek Middle School, is on the Wednesday soccer team. Rose said her favorite part of camp is that even when a camper is struggling with a sport, the other kids are still included.
"I like that even if you're not good at a sport, everyone still encourages you," she said.
Rose, who identifies as a Christian, said she also enjoyed learning more about Jesus through the camp.
"He was always with me," she said. "If I'm nervous about being in a sport, or about playing yesterday – I'm a little bit nervous about kicking and missing. But sometimes, you just have to believe."




This news collected fromSource link