"Call Her Daddy" host and executive producer Alex Cooper and ACE Entertainment founder and CEO Matt Kaplan are teaming up to launch a Gen Z-centric new media venture.
The company, called Trending, will feature "scripted and unscripted content, podcasts, digital media, tours and other Gen-Z-focused events," according to a press release. Kaplan said the company will combine "ACE's production and financing expertise with Alex's ability to engage this influential community in curating new experiences."
"Every day I interact with countless young people who push the boundaries behind the stereotypes and misconceptions we often hear about Gen Z," Cooper added. "Gen Z is the revolutionary voice of a new generation. Their voices and opinions deserve to be supported by content designed for them in a unique way that matches their values, interests and passions."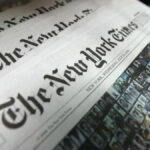 cooper his The show, which draws millions of listeners per episode and is Spotify's No. 1 podcast for women, took off in 2018 with an episode titled "Abortion Stories," which examined women's struggle to maintain their rights. Realities faced in the struggle for autonomy over one's own body.
Since then, Cooper has explored a wide range of topics, including culture, health and relationships, with guests including Jane Fonda, Gwyneth Paltrow, Christina Aguilera, John Mayer, Brazilian pop superstar Anita, Madison Beer, Lil Dicky, John Legend, Rebel Wilson, Adam Devine and Chelsea Handler to name a few.
In addition, the Philadelphia-born entrepreneur has launched a merchandise line and other ventures are in the pipeline.
Kaplan's credits include "XO Kitty," the "To All the Boys I've Loved Before" series, "The Perfect Date" and "Hello Bye and Everything in Between," "Before I Love You" starring Zoey Deutch Fall" and "The Perfect Date" "The Lazarus Effect" with Olivia Wilde and Mark Duplass.
ACE is also supporting Nickelodeon TV's reboot of "Are You Afraid of the Dark," whose third season premieres in July 2022, and is developing projects with Netflix, Disney+ and Peacock.
ACE finances and produces five films a year, including the upcoming Netflix "Love at First Sight" starring Haley Lu Richardson and Ben Hardy; Paramount+ Premiere of "Love in Taipei," starring Ross Butler, Hira Nicole, Aixi Liao; Back in Time, Madison Bailey and Antonia Gentry; The Cuban Girl's Guide to Tea and Tomorrow, Maia Reficco, Kit Connor and Kate del Castillo; and Wishing You Everything Goes Well," written and directed by Tommy Dorfman, starring Cole Sprouse, Alexandra Daddario and Corey Fogelmanis.


This news collected fromSource link